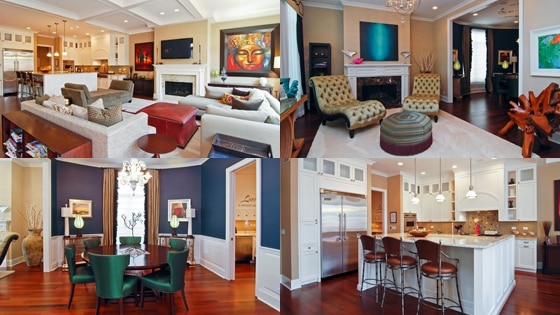 Looks like Rosie O'Donnell will be joining LeAnn Rimes and her BFF Giuliana Rancic in Chicago!
Realtor Janelle Gordon confirms to E! News that O'Donnell is "under contract" to buy a $2.5 million rowhouse in the Windy City.
Sounds nice, right?
READ: Watch Out, Chicago! LeAnn Rimes and Eddie Cibrian Are Comin' for Ya!
Located in the heart of the Southport Corridor in Chi-town, the 6,000 square-foot home includes five bedrooms and five bathrooms, 11-foot ceilings, extensive millwork and custom cabinetry, along with a security system, sports bar and home theater.
The listing describes the vibe of the house as "rich designer flare."
Aside from the interior, the property has a 2,000 square-foot roof deck outdoors and a three-car heated garage. Cars need some warmth, too, ya know.
There's no word whether or not Rosie's new lady will be moving in with her, but we're sure she'll pay the new digs a visit.


Read more: http://www.eonline.com/news/rosie_odonnells_new_chicago_home_take/265535#ixzz1YkVzjtad
Rosie O'Donnell's new talk show, "The Rosie Show," premieres October 10, 2011, her first chat venture since the leaving the panel of "The View" prematurely in 2007. The new gabfest, which will become a centerpiece program on Oprah Winfrey's OWN Network, is already building a slew of media buzz.
In fact Oprah has such high hopes for the program that she turned over the use of her famed Harpo Studios in Chicago, located at the intersection of Washington and Carpenter streets, for taping purposes.
Along with the comedienne and personality's lofty new gig comes the purchase of a lofty new home in the Windy City's Lakeview neighborhood, a trendy, upscale community known for pricey residences where yours truly grew up. O'Donnell recently closed on a lavish brownstone, furniture included, costing the star a reported $2.5 million.
Erected in 2007, the new construction property boasts five bedrooms and six bathrooms - plenty of room to accommodate the Flintstones actress and her four children. The property encompasses 6,000 square feet on three levels of living space.
The house is a stunning piece of architecture with 11-foot ceilings (pictured below), a home theater, rooftop deck and heated three-car garage. And as befits a person of O'Donnell's fame, the home comes equipped with a state-of-the-art security system. And no, it's not just to keep the likes of Elizabeth Hasselback and Donald Trump at bay.
O'Donnell's original plan was to commute to Harpo Studios from her home in New York, but she apparently had a change of heart after viewing the beautiful property, currently possessed by an OWN staff member.
Speaking from personal experience, anything that shortens a working mother's commute is an asset.
What do you think of Rosie's new Chicago residence? Is it fit for the new would-be queen of daytime?


Read more: http://moneywatch.bnet.com/spending/blog/home-equity/rosie-odonnell-purchases-chicago-home/5664/#ixzz1YkWkpfLs