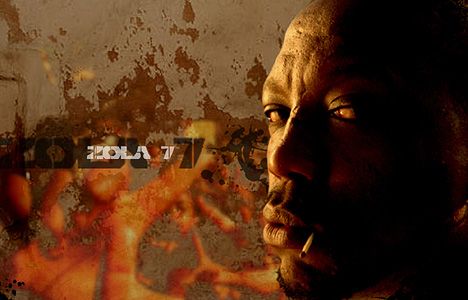 For years he has been a public figure in music and television, and for Bonginkosi Dlamini - better known to television viewers and music fans as
Zola
- the stress has taken its toll.
As a poet, actor, and musician, Zola has emerged as the superstar of Kwaito and is a man blessed with many talents. Zola grew up in Soweto, in the ghetto called Zola, hence the name. Though he is standing on the brink of greatness, he is under no misconception of his past or future. Kwaito kids are made from hunger, abuse, no father, violence, guns Now as adults we must change the game for the better Now we must change everything we are made from. Zola And although Zola is by far the most successful kwaito artist in SOUTH AFRICA today, he is forever conscious of societies growing needs, pains and tribulations, which is why he tackles real issues that are effecting our South African people. But, Zola also doesnt forget that in all our sadness and pain we must yet again in true South African fashion rejoice and dance. Zola's previous albums have made him one of the biggest selling artists in South Africa. What distinguishes Zolas home grown sound from other Kwaito artists are his challenging lyrics reflecting an intelligence and maturity not often found in Kwaito music.
Controversial kwaito star Bonginkosi "Zola 7" Dlamini has laughed off claims that e.tv has dropped him.
He has told his detractors to look at his viewership figures to see why 2011 has "been a great year" for him.
Dlamini's 13-part reality TV show, Rolling with Zola, ends on December 18, a day after Kenny Kunene's reality show, So What, is flighted for the last time on the same channel.
Dlamini's show boasts impressive figures when compared with Kunene's, and Hlelo and Ntando Masina's Blame It On Fame. According to the SA Advertising Research Foundation, Rolling with Zola attracted more than 1.7million viewers last month - it hit 2 019 333 at the beginning of the month - whereasSo What was watched by 1.4million viewers and Blame It On Fame attracted 1.1million. The latter ended on November 28.
"The response from the public was absolutely amazing," Dlamini said yesterday.
"I have honoured the contract, so did the channel. So I think it's so sad when people who don't understand TV say the show has been canned."
He said he might do more work with the channel next year, but not on the same show.
In September, e.tv's group head of content, Monde Twala, launched the three shows amid much fanfare, saying: "We're keeping up with the trends and extending our genres to reality TV shows that celebrate our own celebrities."
Yesterday, he said the channel was scouring the local entertainment scene for the next celebrity to fill Zola's spot.
He said each season a new celebrity would head the Rolling With series.
The new celebrity, "who has an interesting life story to share", will be announced in the first quarter of next year.
The channel is in the planning phase with the Masina twins for a second season of their show.
"South Africa fell in love with the twins in the first season and the target market wants more," he said. "The channel is pleased with the show and its appeal in showcasing real up-and-coming celebrity lives."