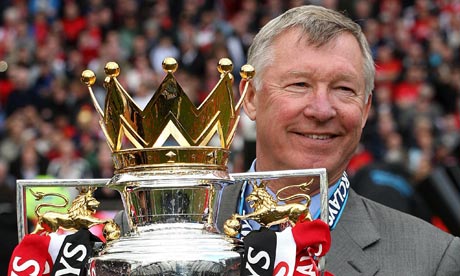 SIR Alex Ferguson won't be at either of Manchester United's two matches tonight - because his wife ordered him to stay home to help with their house move.

The Reds will put out two teams as they bring their pre-season to a close with ties against Glentoran in Northern Ireland and Dunfermline in Scotland.

But the manager has been dropped from both line-ups by the one person he dare not disobey - his wife Cathy.

Instead, Sir Alex will be back in Cheshire helping with a move from his £1.5m mock-Tudor mansion to a similar property just down the road.

"I told her that I had a match that day, but she wasn't having any of that," he said. "She said it was a friendly and that I had to help her.

"Actually, she has saved me from a difficult choice, because my father played for Glentoran, but I also have close associations with Dunfermline, where I played my best football before my transfer to Rangers."

Admiration

Sir Alex has often expressed his admiration for his wife's support and good advice. It was Cathy who talked him out of stepping down as United boss in 2002, telling him: "Retire when you are tired."

The couple - worth an estimated £20m, according to a recent rich list - have splashed the cash on a new home believed to be worth £2.5m. It is reported to come complete with gym, five bedrooms and extensive gardens, as well as £30,000 worth of security windows.

The Fergusons' current home - named Fairfields after the shipyard where Sir Alex's father worked - is impressive enough, but less flashy than those of some of his players.

Wayne Rooney, Ryan Giggs and Gary Neville have all knocked down historic houses to make way for purpose-built dream homes.

Giggs paid £2m for a 100-year-old house in Salford, only to have it bulldozed and replaced with a £4m mansion.

And Rooney and fiancée Coleen McLoughlin demolished a £1m house just down the road from his manager to replace it with an eight-bedroom pile with swimming pool and cinema.