Success symbol: A full view of Manny Pacquiao's Hollywood home, a short drive away from the homes of Paris Hilton and Sharon Stone


Sports legends are some of the most well known people in the world, both for their sporting achievements and the lifestyles they lead. Basketball players, football players and boxers — the sporting world is filled with stories of multi-million mansions, expensive cars and unbelievable gifts.
Manny Pacquaio, however, has his feet firmly planted on the ground. He's a sound businessman and a great boxer.
So when it was time to pick a home in California, Manny and wife Jinkee Pacquiao chose a place that's only a short drive away from the homes of celebrities such as Paris Hilton, Sharon Stone and Lacey Ford Williams, heiress to the famous Ford Modeling Agency, whose husband, John H. Williams, produced the Shrek movies.
In spite of the many luminaries surrounding them, Manny and Jinkee have remained grounded and chosen a house that is understated in its elegance. No gilded and gaudy mansion for this couple, which confirms what people say about Pacquiao's humility and lack of pretentiousness in spite of his wealth.
Friends of the couple said the house was bought early this year when Manny was training for his fight against Ricky "Hitman" Hatton. In late March, Jinkee flew to LA to choose the pieces of furniture for the house. She decided to hire a professional interior designer to guide her in furnishing the interiors but in the end, Jinkee still had the final say. After visiting the top furniture stores in the area, she meticulously chose the pieces that she thought would go with their lifestyle. Friends say that she went through the process of comparing prices and mixed some medium-priced pieces with high-end ones.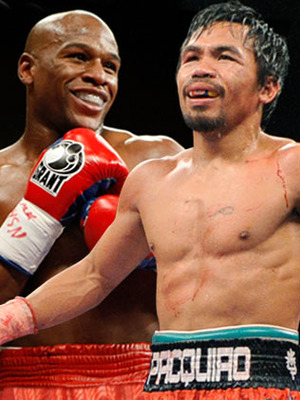 The house has a modern, quasi-Spanish façade with arches, a wooden door in the middle, floor-to-ceiling glass picture windows on the left side and a garage with glass windows on the right. For security measures, they tinted the glass windows of the garage in deep bronze hues and lined the picture windows with horizontal louvers from Hunter Douglas.
The house is elevated a few steps from the street level and the path leading to the entrance and garage is a mix of concrete and greens. A hedge of yellow flowers on the left side of the steps and pink blooms on the right give the house a lot of charm and warmth.
The spacious ground floor has a living room, dining area, state-of-the-art kitchen and a small sitting room with a powder room on the left side of the foyer.
There is an electric fireplace at the end of the dining area and a mantelpiece. On top of the mantel is a portrait of Audrey Hepburn, which looks like a Warhol. On the left wall is an octagonal modern mirror. A Baccarat crystalchandelier is the bling element in this otherwise modern dining room. Jinkee chose a 10-seater rectangular table with a glass top and high-backed chairs upholstered in a printed black velour-like fabric.
At the back of the house is an ample-sized swimming pool with a gazebo on one side and mini waterfalls on the other. The pool area is surrounded by tall Japanese bamboo, which adds to the Zen-like modern effect the Pacquaios wanted to achieve in their backyard.
The second floor has four bedrooms: the master's bedroom, daughters Princess and Queenie's bedroom, sons Jimuel and Michael's bedroom, and the fourth bedroom is a guest room. Jinkee decided to make the bedrooms very colorful but all in good taste.
This house of Manny Pacquiao in a posh area of Beverly Hills is not all about the wealth that he has acquired as the world's welterweight champion. It is a symbol of a young boy's struggles and the way he rose above his very humble beginnings. A young boy who followed his dreams, worked very hard and prayed hard to achieve it.
"With God on your side, everything is possible," Manny says. The honor and glory that he brought to our country is inspirational to every Filipino, young and old. In the end, there is only one Manny Pacquiao.
Manny Pacquiao is a boxer that has done it, having even being named fighter of the decade for the 2000s by the BWAA. We think that the current Wekterweight World Champion also deserves to enjoy the finer things in life, and it looks like he is.

A recent video posted on Youtube and numerous other reports from across the Internet prove that Pacman has gotten himself a brand new Ferrari 458 Italia in black, which he uses as a daily driver. The video shows him arriving at the Wildcard Gym in his new Ferrari to train for his next fight with Marquez.

We don't know if the high-revving 4.5-liter V8 will help Pacquiao rev up his engines in time for his next fight with Juan Marquez, which is scheduled for November 12th, but the 458 packs one hell of a punch.

Pacquiao's invincibility pierced in divisive win
LAS VEGAS – When the final bell rang, 12 rounds of furious fighting complete, Juan Manuel Marquez lifted his right fist high into the air, turned to the ringside crowd and offered a knowing wink through an eye nearly swollen shut.
Standing in front of him at that very moment, his opponent, Manny Pacquiao, let his head sag as he turned to walk to his corner. Seconds later Marquez was carried around the ring on the shoulders of two of his corner men. Pacquiao was on his knees in prayer.
What Pacquiao lost was clearer – his cloak of invincibility, his reputation for destruction, even, in some ways, a measure of his credibility.
Marquez was able to frustrate, counterpunch and deliver direct hits that Pacquiao hadn't felt in years. Pacquiao ended up with 28 post-fight stitches above one eye (inadvertent head butt). All courtesy of the 38-year-old Marquez, whom Floyd Mayweather Jr. had completely dominated in 2009.
[Related: Pacquiao beats Marquez by controversial decision]
Worse is that fans around the world immediately believed the decision came courtesy of the power of Pacquiao's promoter, Bob Arum, and the potential $100 million-plus superfight with Mayweather that would have been jeopardized by a Pacquiao loss.
No fighter, let alone one of Pacquiao's caliber, wants to be seen as needing political protection.
"All the Mexicans [were] booing me, 'You stole the fight, you stole the fight,' " Arum said afterward. "Like I had anything to do with it."
This is where everything changes for Pacquiao. Only Arum could claim surprise at fan outrage in a sport with a not-so-illustrious history of crooked deals and foul play. In his typically ridiculous fashion, Arum claimed the only people who saw it that way on Twitter have Spanish names.
"Everybody knows what happened," Marquez said. "I won this fight. Only three people there didn't see the same thing. … It was a robbery. They robbed me."
It isn't that simple, of course. Compubox stats favored Pacquiao. Most of the rounds weren't decisive. Many rounds were extremely close in a fight that was full of daring, thrilling, back-and-forth action. Still, how could one judge believe Marquez won only four rounds?
"This is part of the game," Pacquiao said. "The fight is close, but it is very clear I won the fight."
It isn't very clear he won the fight. The frustrations and backlash aren't going away. Pacquiao had enjoyed, if not universal support, than at least respect during this recent stretch of success.
He controlled everything, including his future against Mayweather, who has taken considerable backlash for supposedly ducking the Filipino congressman.
Gone now are the visions of dominance, Pacquiao sending another overwhelmed opponent to the hospital.
Instead Manny dropped his head at fight's end, looking uncertain in the moments before the decision was announced.
There he stood, next to announcer Max Kellerman, unable to conduct his postfight interview because the boos from the pro-Marquez crowd were deafening. There he was, surrounded by security, being hustled out of the ring as insults and popcorn boxes rained down on him.
There was Manny, face bludgeoned afterward, trying to claim victory as Arum pushed him through an abbreviated news conference, a far cry from his usual marathon media sessions.
Arum offered up talk of another rematch – Pacquiao-Marquez IV – in May. Considering the hellacious battle that had taken place, he won't lack for pay-per-view buys. Debate over the decision aside, this was a brilliant night of fighting.
It is also, of course, a leverage play against Mayweather, who has already claimed May 5, 2012, as a night he will fight, preferably in the "biggest fight possible," i.e. Pacquiao.
If Mayweather ever hesitated to take on Pacquiao before, this performance may quickly change that. Marquez's counterpunching style and ability to match Pacquiao's hand speed made this fight. Two years ago though, Marquez was overwhelmed by Mayweather's speed, losing all 12 rounds on at least one scorecard.
"I think [Marquez] has Manny's number," said Pacquiao's trainer, Freddie Roach. "He knows how to fight Manny. Mayweather is a bit of a counterpuncher also; he can give us trouble. We need to learn to deal with these counterpunchers better."
[Related: Angry Juan Manuel Marquez says he might retire after 'robbery']
It all becomes so much more intriguing. This is Pacquiao in a new light. This is Pacquiao physically challenged. This is Pacquiao without that smiling, carefree attitude.
This is Pacquiao, surrounded by questions, dogged by doubt, heckled and running from cries of fixed judging. This is everything the proud fighter doesn't want.
There's only one way to change that, only one way to bring it all back. Go right back at Marquez – "It was a fight I kind of don't want to do again, but we have to," Roach said.
Or better yet go right at Mayweather, make the superfight happen even if it requires conceding to some of Mayweather's silly demands.
Next time it won't just be a belt or a pile of money on the line. It'll be something bigger: Manny Pacquiao's reputation.